Things are not going well for Donald Trump's campaign, as FiveThirtyEight's forecast shows. In the space of a single day (Tuesday), we published articles saying multiple top pollsters expect him to lose the election, that Hillary Clinton might try to play for a landslide, and that Trump might even lose Texas.
And yet, as of midday on Monday, the FiveThirtyEight polls-only forecast model still showed that Trump had a 11.4 percent chance of winning. (It's currently at around 13 percent.) This means that, after our model runs 10,000 simulations of the electoral map with the latest poll data, Trump won in about 1,140 simulations (1,137 to be specific).
What do those victory maps look like? What is Donald Trump's pathway to the White House, electorally speaking?
My colleague Jay Boice was kind enough to send over the model output from a run on Monday, so I dove in and looked at the 1,137 of 10,000 runs where Trump pulled off a clean electoral win. Here are the swing states that he won most often:
| STATE | ELECTORAL VOTES | PERCENT OF WINNING MAPS |
| --- | --- | --- |
| Ohio | 18 | 96% |
| Arizona | 11 | 96 |
| Iowa | 6 | 95 |
| Florida | 29 | 90 |
| North Carolina | 15 | 88 |
| Nevada | 6 | 80 |
| New Hampshire | 4 | 64 |
| Colorado | 9 | 59 |
| Minnesota | 10 | 59 |
| Wisconsin | 10 | 59 |
| Pennsylvania | 20 | 56 |
| Michigan | 16 | 47 |
There are six states — Ohio, Arizona, Iowa, Florida, North Carolina and Nevada — that appear on at least 80 percent of Trump's victory maps. It's very, very difficult to imagine a win for Trump if he doesn't win all of these: A Trump win without Ohio occurs less than 1 percent of the time in the model simulations, and a win without Nevada only about 2 percent of the time. There are six more states that appear on around half or more of the victory maps, and these are a bit interesting: Minnesota appears more often than Pennsylvania, but in fairness Pennsylvania is rather definitively far out of Trump's reach, whereas there is more uncertainty in Minnesota given slightly scanter polling.
That means he would have to win every state shaded red on this map, and then at least one of the other unshaded states to put him over 270.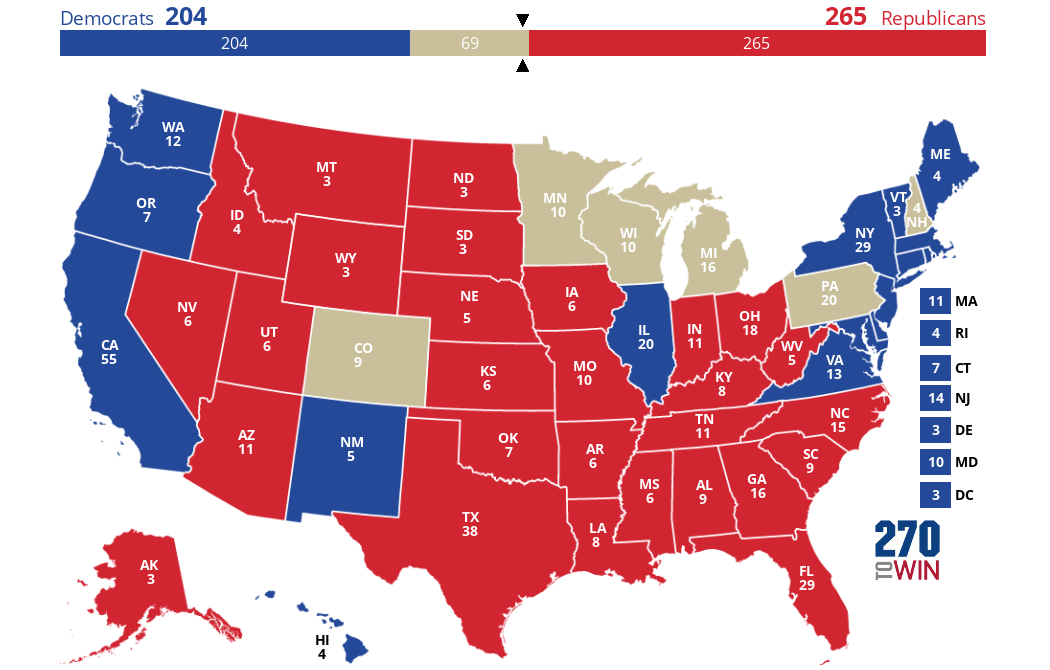 What is interesting about this batch of states is which ones flip when others do. I built a conditional probability matrix out of the 1,137 simulations. In a simulation where Trump has a winning map and wins in Michigan, he also won in Minnesota 75 percent of the time, Wisconsin 84 percent of the time, and Ohio every time. If he wins and won Virginia in doing so, he almost certainly won North Carolina.
IF TRUMP
WINS…
THEN HIS CHANCE OF WINNING…
MI
VA
MN
WI
CO
NH
PA
NV
NC
FL
OH
Michigan
100%
40%
75%
84%
60%
71%
61%
87%
85%
88%
>99%
Virginia
45
100
69
59
77
72
68
76
95
94
94
Minnesota
59
49
100
72
66
72
65
81
88
87
99
Wisconsin
67
42
72
100
62
73
60
85
85
88
99
Colorado
47
54
66
62
100
73
58
85
88
91
95
NH
52
47
66
67
67
100
58
83
87
92
96
Pennsylvania
51
51
69
63
61
66
100
77
91
87
97
Nevada
51
40
60
63
63
67
54
100
87
91
97
NC
45
46
59
57
59
64
58
79
100
90
97
Florida
46
44
57
58
60
65
54
80
87
100
96
Ohio
48
41
60
60
58
64
56
80
88
90
100
In maps favorable to Trump, the probability that he wins one swing state if he wins another